Joetta Shumba: Driver jailed for 160mph death crash on M62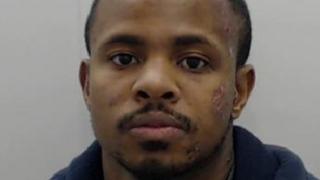 A man who killed a mother in a 160mph car crash has been jailed for eight years and eight months.
Joetta Shumba, 25, died in January in a crash on the M62 in Greater Manchester.
The mother-of-one was a passenger in an Audi that hit a lorry which then overturned near the Eccles Interchange.
The car's driver, 30-year-old Martin Grant, of Jacey Road, Birmingham, admitted causing death by dangerous driving at an earlier hearing at Manchester Crown Court.
'Fireball' flew past
The jail term included a breach of a suspended sentence for a previous offence of actual bodily harm that Grant had received in Birmingham in 2014.
Grant, who was twice the legal alcohol limit for driving, was also given a six-year driving ban, which will begin when he is released from prison.
The car had been travelling more than 160mph on 24 January as Grant was taking Ms Shumba home from a nightclub.
It hit the lorry with such force it overturned and slid on its side further up the motorway, police said.
It continued to spin out of control for another 175m (574 ft) with the momentum ripping the engine from the vehicle.
The driver of the lorry told the court he heard a loud bang and saw a "fireball" fly past him before his vehicle overturned.
Joetta Shumba, who had been a back-seat passenger, was pronounced dead at the scene.
Grant was taken to hospital under the watch of police.
Whilst being treated, he attempted to leave the hospital before officers stopped him and formally arrested him.
PC Paul Joynson said Grant had been driving "at a ridiculous speed" and his "recklessness and idiocy has left a young boy to grow up without his mother".
"His attempts to evade justice by trying to leave the hospital to the detriment of his own health to avoid being arrested would suggest that his only concern was himself."