Police make further arrests in Rochdale Koran reader death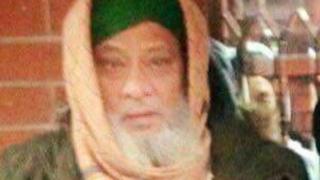 Police have made two further arrests in an investigation into the death of prominent Koran reader Jalal Uddin.
A 28-year-old man has been arrested on suspicion of conspiracy to commit murder and a 24-year-old man is being held over alleged terrorism funding.
Mr Uddin, 64, died in hospital after being found with a serious head injury in Rochdale, Greater Manchester in February.
A third man, 21, was also re-arrested after answering bail.
He had previously been questioned on suspicion of conspiracy to commit murder.
It is understood Mr Uddin was a qari, or Koran reader, at the Jalalia Jaamé Mosque.
Assistant Chief Constable Rebekah Sutcliffe said: "The investigation into Jalal's murder has so far been a far-reaching and diligent process with a team of officers working meticulously to examine every lead that has come to light."
She said they were "continuing to make good strides" in the investigation.
A 31-year-old man arrested in February on suspicion of murder has been released without charge and eliminated from inquiries and a 17-year-old boy arrested on suspicion of murder has been bailed until 1 June.
Mohammed Syeedy, 26, of Ramsey Street, Rochdale, has been charged with murder and is due to appear at Manchester Crown Court on 22 August.