Fire breaks out on 15 acres of Saddleworth moorland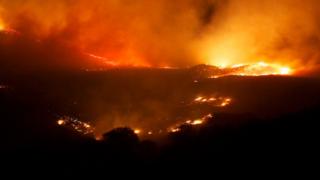 A fire broke out on 15 acres of moorland in Greater Manchester.
Firefighters were called to the Dove Stone area near Saddleworth at about 20:45 GMT on Thursday.
Crews battled high winds to bring the blaze under control and scaled the incident down at about 22:30. They left the scene earlier.
There was no threat to wildlife or nearby properties, said a fire spokesman. An investigation into the cause is the blaze is under way.
People are being urged to take care to avoid starting fires on the moors.