Deportation threat for 77-year-old with dementia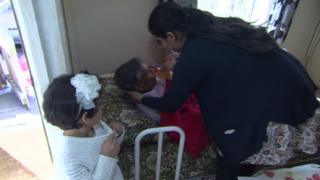 A 77-year-old man with dementia is facing deportation to Pakistan after his visa application was turned down.
Hakeem Muhammad Haleem, who is partially blind and suffers from dementia and diabetes, has been cared for by relatives in Oldham since his wife died in 2011.
But the Home Office has said he must return to his home country, the Manchester Evening News reports.
His family say no-one can look after him there and he is likely to die.
Mr Haleem lives in the front room of his son and daughter-in-law's house in Oldham.
His family say he is nearly bed-bound and his dementia, diabetes, heart condition and partial blindness means he needs 24-hour care.
'Might die'
His daughter-in-law, Mehwish Nadeem, who cares for him said "he can barely walk... and has memory loss problems... it is very difficult."
He came to visit his family with his wife in 2010 but she died in 2011 after returning to Pakistan for treatment for diabetes.
The Home Office has refused him permission to stay in Britain despite his family saying they would take full responsibility - physically and financially - for his care.
Mrs Nadeem said "the doctor told us to watch him for 24 hours a day" but "there is nobody in Pakistan to look after him".
"We are unhappy if he goes back to Pakistan because, maybe he might die. He's happy with us."
A Home Office spokesperson said they "do not routinely comment on individual cases."
"All applications are considered on their individual merits, including any exceptional or compassionate circumstances, and in accordance with the immigration rules."
Hakeem's family has gained nearly 20,000 signatures on a petition against the deportation order but the Home Office says he must appear at an immigration reporting centre next week.