Charity Trekstock 'disappointed' over missing festival donations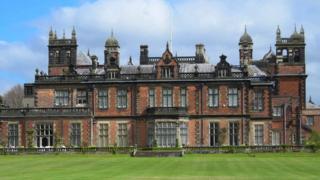 A cancer charity says it is "incredibly disappointed" not to have received donations raised at a music festival by a company that has now gone bust.
Sam Gardner quit as a cabinet member of Cheshire East Council last week after admitting that Fomfest Ltd, of which he was a director, had "misused" donations collected at Friends of Mine in 2011.
The charity Trekstock said the money was earmarked for a cancer drugs trial.
Mr Gardner said he had "total confidence" he would be exonerated.
Fomfest Ltd ran the music festival at Capesthorne Hall, Cheshire.
The company was later liquidated, with liabilities of £460,068.
At least £4,142 in donations was collected at the festival for Trekstock, which supports young adults with cancer, but records show the donations were never passed on.
Additional donations were collected in cash at the three-day event in May 2011, but the value of those is not known as no record was kept.
The charity submitted a claim to liquidators for £10,000.
'Biggest regret'
Trekstock founder Sophie Epstone said: "We remain incredibly disappointed that funds raised during Fomfest have not been handed over to the charity.
"The £10,000 owed could have reduced the fear and isolation felt following diagnosis at such a young age by helping to fund vital peer support and information services across the UK."
Before resigning from the Conservative-run local authority on Thursday, Mr Gardner was responsible for leisure services. Previously, he was deputy cabinet member for finance and assets.
He said he was standing down because he did not want the council to be damaged by media attention.
Mr Gardner said: "It was immediately apparent on completion of the event that the company wouldn't be in a position to pay its creditors and from that point was not allowed to make any payments whatsoever."
He said the aftermath of the collapse of the business was his "biggest regret" and he "wishes the charity could have been paid".
Mr Gardner was disqualified from being a company director in 2013 after an application by liquidators citing the missing charity donations. A legal document seen by the BBC confirms "no donations were remitted to the charity at all".