Council boss denies ignoring views on Stockport market plans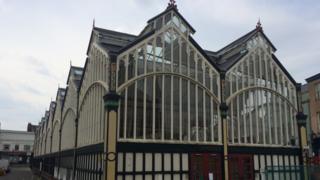 A council leader has denied claims a market's redevelopment plan could go ahead without public consultation.
Stockport Council is considering a £1.4m proposal to transform the site into a food outlet, forcing out some existing traders.
Executive member for thriving economy Patrick McCauley resigned, branding the consultation a "sham" because a report had already approved the scheme.
Council leader Sue Derbyshire withdrew the report pending public consultation.
"We only received the traders' consultation on... Thursday so that needs to be incorporated," she told BBC Radio Manchester. "I said the report was not ready and should be taken back and recommendations made on the full picture."
She said the market, currently making a £200,000 annual loss, "cannot continue" and there was "a degree of urgency to bring back this area to greater economic health".
Market traders were told in January that the council wanted to move them into a former bank so it could create a food and drink outlet in the market hall.
'Untenable position'
Mr McCauley, previously in charge of the scheme on the Liberal Democrat-controlled council, said the draft report - recommending the project's approval - had been written before the results of the public consultation had been considered.
"They have decided what they want to do before they have got the consultation," he said earlier. "It is a completely untenable position for a democratic council."
The current market has 30 stalls but there is only room for 20 stalls in the former Lloyds TSB building on Great Underbank.
A statement from Stockport Council said that, once the public consultation responses have been analysed, a report "will then be finalised for full consideration by elected members over the coming weeks prior to any decisions being made about the future of the market".
It said public consultation responses were being analysed by an independent research company.