Councillor quits in row over 'sham' Stockport market plans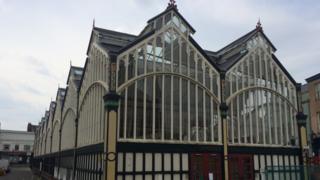 A Stockport councillor has resigned over controversial plans to turn the town's market into a food outlet and move traders to a new site.
Patrick McCauley stepped down claiming that consultation over the £1.4m proposals was an "absolute sham."
The Liberal Democrat councillor claims a report had recommended the project should go ahead before the views of the public had been considered.
Stockport Council said all views would be heard before a decision was reached.
Before his resignation, McCauley was overseeing the plans as executive member for Thriving Economy.
The market traders were told in January that the council wanted to move them into a former bank so it could create a food and drink outlet at the market hall.
The current market has 30 stalls but there is only room for 20 stalls in the former Lloyds TSB building on Great Underbank.
The authority insists it wants to hear the views of traders and the public over the plans.
A statement from Stockport Council said that, once the public consultation responses are analysed, a report "will then be finalised for full consideration by elected members over the coming weeks prior to any decisions being made about the future of the market".
It says public consultation responses are being analysed by an independent research company.