Knife-wielding Stockport burglar threatened man, 87, as he slept in own bed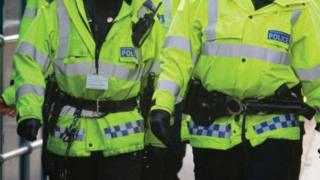 A knife-wielding burglar threatened an 87-year-old man who was asleep in his own bed.
The pensioner was woken at his home in Stockport at 07:00 GMT on Saturday by the intruder who prodded him while holding a kitchen knife, Greater Manchester Police said.
The burglar broke in through a ground-floor window at the house in Bredbury before making his way upstairs.
He forced the man to hand over a wallet and purse before escaping.
The burglar is described as white, aged between 30 and 35, about 6ft (1.8m) tall with a medium to large build.
'Mental anguish'
He was wearing a dark woollen hat, had short hair and dark eyes and spoke with a northern accent.
Det Sgt Tim Cooke said: "I can only imagine how terrifying it must be to wake up in your own bed to find a knife-wielding man standing over you.
"The victim has thankfully not been injured, but the mental anguish of such an awful ordeal will surely leave a lasting impact."