Stephen Hunt firefighter inquest shown film of blaze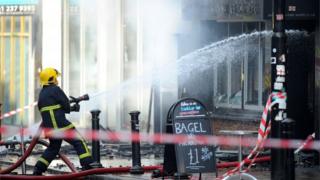 Mobile phone footage of two girls shortly after a fire started at a shop in Manchester has been shown at the inquest of firefighter Stephen Hunt.
Jurors heard the 38-year-old died after taking a wrong turning inside the smoke-filled rooms of Paul's Hair World in Oldham Street in July 2013.
One of the girls, aged 17, told the hearing at the Civil Justice Centre: "I categorically did not start a fire."
She agreed the footage was filmed on her phone but said her friend held it.
The inquest was shown the clip in which one of the girls said: "We've started a fire. We didn't mean to."
The other added: "I saw a flame and ignored it."
Following the blaze, the two girls were arrested and one was charged with arson but the charges were later dropped.
The girl said she had stopped by the exit doors at the back of the shop with her friend and they had smoked cigarettes, but was "completely satisfied" her cigarette was out before they walked away.
She said she had pulled an advertising leaflet out from under the door and pushed it back in again.
Jurors were shown CCTV footage of the area at the time. They were asked to note if they could see smoke from the building approximately a minute after the girls left the area.
The business has since been refurbished and reopened and a plaque dedicated to the firefighter placed on the exterior wall.
Father-of-two Mr Hunt, from Bury, was based at Philips Park Fire Station in Manchester.
The inquest, which is expected to last five weeks, continues.