Memorial garden planned for Alan Henning in Eccles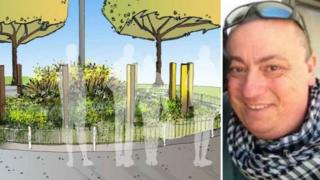 Work is under way to create a memorial garden in honour of murdered hostage Alan Henning, in his home town.
Mr Henning was beheaded by so-called Islamic State militants after he was kidnapped in Syria in December 2013.
The circular garden is being built at the recreation ground in Eccles, where a candlelit vigil was held after the 47-year-old's death in October 2014.
He was killed after his capture at the start of his fourth voluntary mission to deliver aid to Syrian refugees.
Ian Stewart, mayor of Salford, said the garden would be a place where people can "pause to reflect and think of him".
'True son of Salford'
Salford City Council is partnering with Urban Vision and the local Friends of Eccles group to build and plant the garden, which is planned to open in the next few months.
Mr Stewart said the council "always wanted" to create a "permanent tribute to Alan" and waited to be "guided by Alan's family as to when the time was right".
"Alan was a true son of Salford who was simply trying to help fellow human beings in desperate need," he said.
"His senseless killing shocked everyone and Eccles is still decorated with yellow ribbons as a tribute to his bravery and humanity."
The tribute garden will feature a circular flower bed with yellow flowers and plants, wooden sleepers painted yellow and two granite boulders bearing memorial plaques.
Jonathan Ellis, director of Urban Vision, said it would be "a tranquil and beautiful space" for people to "come and remember Alan and pay tribute to his life".
"When the garden opens in the coming months the yellow flowers will be in full bloom as a sign of both respect and celebration of Alan's life and his contribution to ours," he said.