Royal Bolton Hospital 'critical' as Easter pressure mounts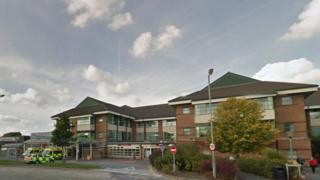 The Royal Bolton Hospital has declared a "critical incident" as staff struggle to cope with the number of patients.
A total of 360 people arrived at the A&E department to be treated on Monday leading to a shortage of beds, Bolton NHS Foundation Trust said.
Ambulances were diverted away from the hospital for an hour on Tuesday to give the hospital a "short respite".
A trust statement urged people to consider if they needed to be treated in hospital before arriving at A&E.
Some routine operations have been cancelled and extra nurses have been brought in from their non-clinical roles.
The trust's chief operating officer Andy Ennis said: "Hospital staff are working closely with our own staff in the community as well as with social services to support safe discharges of patients who no longer need to be in hospital.
"A number of trusts have been struggling with increased attendances, including many people who do not need to go to hospital."
A critical incident is defined by the NHS as "any localised incident where the level of disruption results in the organisation temporarily or permanently losing its ability to deliver critical services."