Natalia Strelchenko murder: 'Jealous' husband John Martin jailed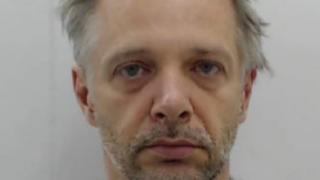 A musician has been jailed for life for murdering the concert pianist Natalia Strelchenko, his Russian wife whose success he resented.
Double bass player John Martin, 48, strangled the 38-year-old at their Manchester home on their second wedding anniversary in August 2015.
She suffered 76 injuries after Martin threw both her and himself down the stairs before punching her repeatedly.
Martin, who was convicted on Friday, must serve a minimum of 17 years.
Martin, originally from Norway, had denied murdering Ms Strelchenko and said he had no memory of the attack.
The judge at Manchester Crown Court, Mrs Justice Laura Cox, told him it had been a "brutal, sustained and unprovoked attack".
The trial heard he beat Ms Strelchenko after losing his temper at their home in Newton Heath on 30 August.
A friend who had been staying with the couple described how Martin went for his wife "like an animal", throwing them both down the stairs before repeatedly punching her.
'Kill me' plea
When the female guest pleaded with him to stop, he said: "I want to kill her."
After police arrived at their home in Culcheth Lane, he repeatedly said: "Kill me, kill me please, I have nothing to live for, I do not deserve to live". His pleas were filmed on an officer's bodycam.
Martin had served a prison term in Norway for assaulting Ms Strelchenko on two previous occasions and he was told he must serve a minimum jail term of 17 years and 164 days before being released on licence.
Ms Strelchenko, also known as Natalia Strelle, made her debut at the age of 12 with the St Petersburg Symphony Orchestra, and performed recitals at New York's Carnegie Hall and London's Wigmore Hall.
During his trial, the prosecution claimed Martin was jealous of Ms Strelchenko's career but he said that was "ridiculous".
Mrs Justice Cox said that Martin had intended to kill the pianist in what she described as a "prolonged and ferocious attack".
"On all the evidence I have heard I am satisfied that this attack occurred against a background of controlling and sometimes aggressive behaviour by you.
"The evidence shows that you came to resent her success and her friendships with those she met.
"I am satisfied on the evidence that you were jealous of her being the focus of attention and praise and of her meeting other people when she was working away from home."
Ms Strelchenko's sister, Julia Strelchenko, said the musician had been "much loved" and "extremely talented" and was missed "every minute of every day".
"We can try to repair our heartache although no matter how long the sentence is, it will not bring Natalia back or make our loss any easier," she added.