Manchester park attacker bangs jogger's head against tree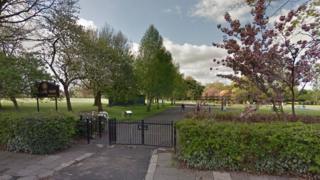 A woman out jogging had her head banged repeatedly against a tree by a man who tried to strangle her with the wire from her headphones, police have said.
Greater Manchester Police (GMP) said the woman suffered "minor injuries" in the attack which took place in a Manchester park on Saturday afternoon.
The force said the 25 year-old woman was jogging in Fog Lane Park in Didsbury when a man assaulted her.
A force spokesman said extra patrols are now operating in the area.
The woman was jogging at about 15:00 GMT when she said she heard rustling in some bushes.
She was knocked to the floor by the man who held an "unknown object" to her throat as she went to investigate, a police spokesman said.
He added that the man fled after being disturbed.
Det Insp Gareth Davies from GMP's South Manchester Division said: "This was a terrifying attack on a woman who had stopped to check that someone else wasn't in danger."