Pianist Natalia Strelchenko's husband denies jealousy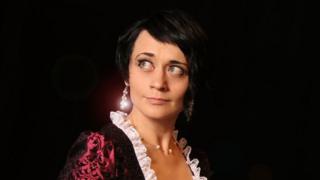 A musician accused of murdering his wife has said it was "ridiculous" to suggest he was jealous of her career.
John Martin, 48, denies murdering Russian pianist Natalia Strelchenko, 38, at their Manchester home on their second wedding anniversary last August.
The double bass player told his trial at Manchester Crown Court that he was "maybe as much in love with [her career] as Natalia herself".
But he said he felt like a "servant" as arguments grew over tidying the house.
The court heard that Mr Martin, who worked for the computer firm IBM in his home country of Norway before he became a musician, met Ms Strelchenko in 2007.
She had performed piano recitals at New York's Carnegie Hall and London's Wigmore Hall, and moved to Manchester in 2009 following the breakdown of her first marriage three years earlier.
Her relationship with Mr Martin developed when he was still married to his second wife.
Mr Martin, also known as Jon Skogsbakken, said he and Ms Strelchenko were "very happy" when they learned she was pregnant.
He denied prosecution claims that he persuaded her to have an abortion, saying it was Ms Strelchenko's choice.
'Severe depressive'
The couple later married and Mr Martin said they had an agreement "that we should try to keep the house a bit tidy at least".
"I am not the tidiest person myself but unfortunately it developed very bad and I ended up feeling like I was a servant."
He added: "Trying not to have 100 pairs of shoes in the front entrance. Every time I went out with my double bass I was falling over."
A consultant psychiatrist told the jury that he believed Mr Martin was suffering from "a severe depressive episode" at the time of Ms Strelchenko's death.
Mr Martin denies the murder or manslaughter of his wife.
He has also pleaded not guilty to the attempted murder of a male youth who cannot be identified.
The trial continues.