Three charged with slavery offences in Bolton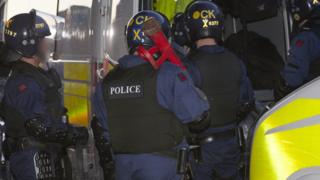 Three members of a family have been charged with slavery offences after police raids in Greater Manchester.
Two men, aged 78 and 41, and woman, aged 37, were arrested on Monday at the factory of wholesale chicken supplier Bolton Poultry Products.
Six men were removed from the Moncrieffe Street premises and taken to safety, police said.
In total, 24 people were arrested and seven suspected victims of slavery rescued in raids across the city.
Warrants were executed by Greater Manchester Police at more than 21 houses, nine car washes, five brothels and other businesses including factories, nail bars, takeaways and restaurants.
More than £300,000 in cash and cheques was seized, as well as counterfeit items including stamps, DVDs and clothes.
The three suspects arrested, all of Ellesmere Gardens, Great Lever, appeared at Bolton Magistrates' Court.
Det Ch Sup Russ Jackson said modern slavery is happening "right under our noses" in Greater Manchester and is "much more subtle than that consigned to our history books."
"They are offered a better life, a good job and financial security for their families. The reality is often one of violence, intimidation and squalor."
The raids are part of a week of action against modern slavery, marking a year since the establishment of a modern slavery unit in Greater Manchester that co-ordinates police, housing associations, local authorities, Trading Standards, Immigration Enforcement and Border Force.