Burnden Park: Bolton Wanderers disaster tribute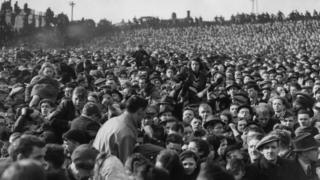 Bolton Wanderers players and fans have paid tribute to 33 people who perished at the club's former Burnden Park stadium 70 years ago.
A minute's silence was held before the home game in the Championship against Ipswich Town.
A special programme filled with people's memories has been sold.
The tragedy at the FA Cup sixth round was the worst loss of life at an English football ground before the 1980s.
On Wednesday, the anniversary date, a pitch-side service will take place at 15:00 GMT with a special book of remembrance dedicated listing the dead and placed on display in the Macron Stadium's reception.
Replica shirts
Flags will be flying at half-mast all week.
On Saturday, when the team play Preston North End at home, players will wear a special third shirt emblazoned with 33 names of the dead.
Money raised from the sale of 1,000 of these replica shirts will be presented to a young person's charity.
Some estimates claim 85,000 people were at the match between Bolton Wanderers and Stoke City in a ground which should have held at least 20,000 fewer fans.
Bolton played their last game in 1997 at Burnden Park, which was demolished in 1999.
A memorial was unveiled by the late Nat Lofthouse in 2000 at the Asda store built on the site.