Stabbed University of Salford student was 'kind and caring'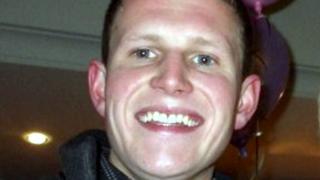 A man who died in a stabbing at a university halls of residence in Salford was "very kind, thoughtful and very caring", his family have said.
William Lound, 30, from Birkdale on Merseyside, was found with multiple injuries inside a flat in Bramall Court, Cannon Street, on Monday.
A post-mortem examination concluded the University of Salford student died from stab wounds to the back and neck.
Lee Arnold, 36, of no fixed address, has been charged with murder.
In a statement, Mr Lound's family said he was "so well liked and respected by so many" because of his "very interesting character and great sense of humour".
"William had just embarked on a very promising future, which would have enabled him finally to reach his potential," they said.
"He would have been a great asset in the IT world had he not been taken from us so early."