Wigan couple jailed for dealing cocaine from home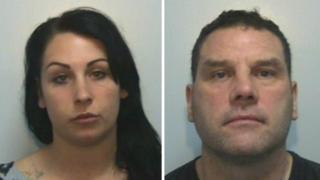 A couple have been jailed for dealing cocaine from their home in Wigan and ordered to pay back the money they made illegally.
Stephen Downing, 55, was jailed for five years after he and his partner Claire Holmes, 26, both of Marsh Green, earlier pleading guilty to supplying the class A drug
Downing also admitted mortgage fraud and six counts of money laundering.
Holmes, 26, was jailed for two years and six months.
Fraudulent remortgage
Downing, who owned seven houses, a strip of land and business premises in Wigan, has been ordered to pay back nearly £400,000 and Holmes more than £5,000.
Police searched their home in October 2012 and found cocaine and drug-dealing paraphernalia and large amounts of cash.
Officers returned in 2013 and found more cocaine, about £45,000 in cash, debt lists and details of drug deals.
In 2005 Downing had illegally remortgaged his home and used the money to purchase other properties, the police investigation also revealed.
The pair tried to blame the drug dealing on Downing's son and he was charged as a result of this false testimony, Greater Manchester Police said.
He was acquitted in January when they changed their pleas.
Constable Peter Jackson from Greater Manchester Police said the pair were "reprehensible".
"Downing and Holmes were determined to live a lifestyle funded entirely by nefarious means. They made their money by dealing drugs and Downing then tried to hide this by fraudulently purchasing and leasing out a string of properties which supplied him with rental income."
He said when they blamed Downing's son. it was a "a perfect of example of the phrase 'no honour amongst thieves'"