Ordsall car explosion 'caused by industrial firework'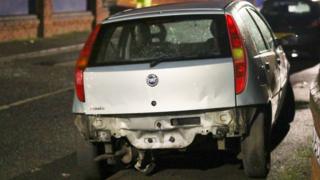 A "massive" explosion involving a car in Greater Manchester was caused by an industrial-sized firework, police have said.
Officers were called to the blast in Cloughfield Avenue, Ordsall, Salford, just after 23:30 GMT on Wednesday.
A Fiat Punto was found to be damaged, and cordons were put in place while an investigation began.
Police said there had been "a lot of speculation" about what had caused the damage.
Dozens of people took to social media sites after being woken by the explosion.
Posting on Twitter, David Hickey said the "massive" blast "sounded like a bomb or house explosion".
Supt Mark Kenny said: "We believe it was a form of large firework, although the investigation is ongoing."