Cut toenail and 'sprained buttock muscle' among 'inappropriate' 999 calls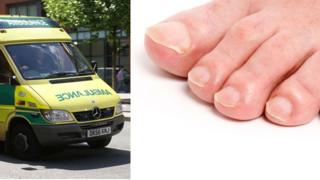 An unexpected surge in 999 calls included a person who had cut a toenail and said their toe was hurting and another with a "pulled buttock muscle".
North West Ambulance Service said it received 3,827 calls on Monday, compared with 3,115 on the same day last year.
One caller rang to complain they had "heard their ankle crack".
The service said inappropriate calls increased waiting times for callers who genuinely needed help.
Other nuisance calls recorded over January and February included:
A person worried because they had swallowed chewing gum
A complaint about "two big toe nails which keep catching on a sock so they can't be cut"
A caller complaining they "had the runs all day"
A person with a cotton bud stuck in their ear
Ged Blezard, assistant director of operations, said: "I have worked in the ambulance service for 30 years and I cannot understand why people call us for minor ailments which can be easily dealt with [elsewhere].
"The ambulance service is not a taxi or mobile first aid service. We are here for life-threatening or potentially life-threatening emergencies."