Manchester City Council leader Sir Richard Leese questions cycle lane overhaul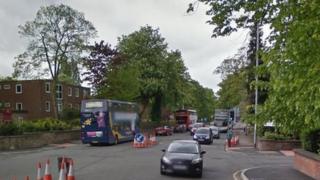 A multi-million pound scheme to overhaul Manchester's cycle lanes may not be the best way to improve safety, the city's council leader has said.
Sir Richard Leese said he had "big question marks" about the installation of more bollards and kerbs which will separate cyclists from other traffic.
Himself a cyclist, Sir Richard said he was more concerned about the quality of some of Manchester's road surfaces.
And he questioned Rusholme's council-backed Wilmslow Road Cycleway project.
"Certainly there have been as many complaints about some of the things that are happening at the moment from cyclists as there have been from car drivers and other road users," he told BBC Radio Manchester.
"I certainly think there are some big question marks about it.
"On my journey, the biggest issue is the road surface - not whether I've got my own lane or not."
'Less congestion'
The work forms part of Transport for Greater Manchester's (TfGM) £42m Cycle City plan, which aims to make Manchester more bike-friendly.
However, responding to Sir Richard's comments, councillor Chris Paul, the cycling and active travel champion for TfGM, said the project will "make people feel a lot safer".
"For cyclists who are a bit less confident, it could be a real boon and encourage people to get back in their bikes," he said.
He admitted that there were some parts of the route that led to "slightly less space for traffic", but said improvements and adjustments to the plans would solve this problem.
Vincent Walsh from the Greater Manchester Cycling Campaign said "everyone will benefit" if more people are given the option to cycle instead of drive.
"Those people who are currently driving because they feel they have no other choice will get out of their cars, they'll cycle, and there will be less congestion," he said.