Metrolink tram fares frozen for another year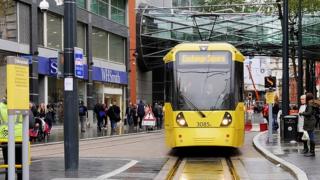 Tram fares in Greater Manchester are to be frozen for another year.
While Metrolink's expansion has led to new lines in recent years, it has also brought disruption for commuters.
Fares on the network have not increased since 2014 and Councillor Andrew Fender, chair of Transport for Greater Manchester, said: "It is important we thank Metrolink customers for their patience".
The 2016-17 freeze was backed by the Greater Manchester Combined Authority.
In the last year, a new stop has been opened at Exchange Square, and major works at the Deansgate-Castlefield and Victoria stops have been completed.
Mr Fender said a new stop would open at St Peter's Square before the end of the year.
Metrolink is also working on preparations for a new line through Trafford Park.
About 33 million journeys are made on the network, which currently has 93 stops, each year.
The Metrolink works are part of a £1.5bn transport package, which also includes improvements to bus and rail services into Manchester city centre.