Car sought in Salford mother and son shooting case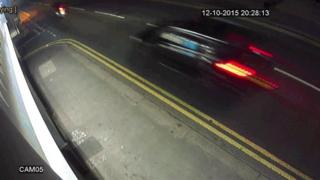 A car that was seen near to the home of a mother and son who were shot on their doorstep is being sought by police.
Jayne Hickey and her son Christian were shot when two men knocked on their front door in Gillingham Road in Eccles, Salford, at about 21:25 GMT on 12 October.
Police said the men were seen speeding away from nearby Dover Street in a black Audi S3 shortly afterwards.
A motorcyclist they passed in Worsley Road has been asked to get in touch.
Det Ch Insp Paul Parker said it was believed the men "drove at high speed" close to the rider "causing him to pull over".
He added that officers were also trying to "trace the occupants of a small dark-coloured hatchback saloon that had a broad stripe running diagonally from the front door over the wheel arches" that the Audi also passed.
Both men suspected of carrying out the attack have been described as white and wearing baseball caps.
One is said to be about 20 years old and of "chunky" build, with a slow voice and a Salford accent.
Christian and his mother have undergone "numerous surgeries" and are both now recovering, police said.