Jamshed Javeed: Teacher jailed for terrorism banned from teaching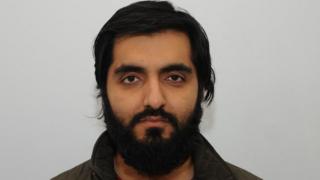 A science teacher who was jailed for six years after planning to fight for so-called Islamic State in Syria has been banned from the classroom.
Jamshed Javeed, 31, of Manchester, had bought plane tickets for Syria, despite pleas from his family not to go.
He was jailed last year after admitting engaging in preparation for terrorism.
Javeed would pose an "unacceptable risk of harm to pupils" if he was allowed to return to teaching, a misconduct panel concluded.
The panel said Mr Javeed "actively promoted religious extremism from a position of trust".
'Significant influence'
"The panel has had particular regard to the fact that teachers are role models, and can have significant influence over children and young people.
"In light of this, the panel considers that should Mr Javeed be allowed to teach in the future, he would present an unacceptable risk of harm to pupils."
The decision was backed by Jayne Millions, a senior civil servant acting on behalf of Education Secretary Nicky Morgan.
A trial at Woolwich Crown Court heard Javeed had been preparing to leave his home in Levenshulme after helping his younger brother Mohammed make a trip to Syria in late 2013.
Javeed, who taught at Sharples School in Bolton, was in contact with people already in Syria and was given a shopping list of items he would need.
His attempt was foiled when his family hid his passport and police arrested him hours before he was set to leave the UK.
An appeal against his six-year sentence was rejected in December.