Woman dies in M62 Eccles Interchange lorry and car smash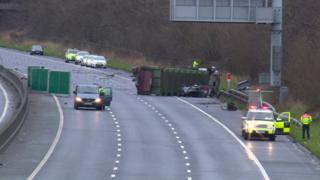 A woman has died in a crash which caused a lorry to overturn on the M62.
The woman was in a grey Audi S3 that collided with a lorry on the westbound carriageway between the Eccles Interchange and Junction 11 earlier.
She was travelling with a man who was taken to hospital in a serious condition.
The westbound carriageway was closed following the collision at about 05:40 GMT. Police are appealing for information and witnesses.
The carriageway was closed for more than 11 hours while investigations took place, the road cleared of debris and the vehicles removed.
Enquires are ongoing to inform next of kin.
PC Paul Joynson said: "We are currently carrying out our enquires to locate the family of those involved and establish exactly what happened for such a tragedy to occur.
"We are asking if anybody witnessed the collision itself or saw the Audi travelling along either the M602 or the M60 to contact police."