Co-operative Group boss says woman was sacked over 'performance issues'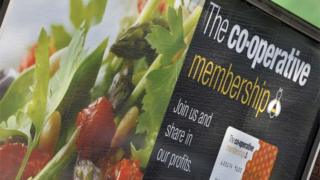 A former Co-operative Group director, who is claiming £5m in damages for unfair dismissal, was sacked because of "performance issues", a tribunal in Manchester has heard.
Kathleen Harmeston was sacked as group procurement director in September 2014
Co-op chief executive Richard Pennycook said Ms Harmeston was suspended after allegations were made against her.
The "principal reason" for her dismissal was her "extreme and hostile reaction" to those, he added.
Ms Harmeston, who was suspended three months into the role, claimed she was subjected to "a deliberate campaign to comprehensively disparage my reputation" after she made public interest disclosures.
Mr Pennycock told the tribunal the former group procurement director had been headhunted to bring in cost saving measures following its financial and reputational crisis in 2013.
'Great disappointment'
He said the savings outlined by Ms Harmeston had appeared "very ambitious" and following a whistleblowing letter relating to Ms Harmeston, a decision to terminate her employment was made.
The letter related to her previous job at the Royal Mail Group (RMG).
It was alleged she had not brought consultancy firm Silver Lining Partners (SLP) - which had been under under investigation amid allegations by a Royal Mail whistleblower, into the business properly.
Mr Pennycook told the hearing: "I recruited her and wanted her to be a success so this was a great disappointment. It was a combination of this [performance issues] and whistleblowing that led to the suspension."
He said her failure to disclose to the Co-op that SLP had been terminated by the Royal Mail Group was "inexplicable".
Meetings in the immediate aftermath of the allegations had been frequent, he said, adding, "it was such a shock and at such a critical time".
Internal investigations revealed Ms Harmeston had not benefited personally from bringing SLP into the Co-op and no fraud was committed.
Mr Pennycook claimed she had "appeared to go on the offensive" against him after rebutting the allegations.
Ms Harmeston said she had sought to defend herself against the content of the whistleblowing letter.
The hearing continues.