Body found as crews tackled tent blaze in Salford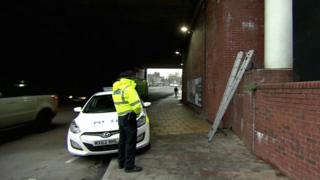 A man believed to be homeless has been found dead in a burning tent in Salford.
Firefighters made the discovery after attending a fire under a railway bridge at the junction of Trinity Way and Irwell Street just before 01:30 GMT.
Greater Manchester Police said it was still investigating the cause.
One building site worker near to the scene said he had seen homeless people sleeping rough under the railway arches.
He said: "I don't know who found him, I didn't know the chap. He was homeless, living under the bridge. I saw about three [homeless people] going in."
'Set on fire'
One homeless man, David Palmer, 37, said he believed the victim was a middle-aged man who had been attacked before being set alight.
He said: "I heard that kids beat him up and set him on fire. I was going to go there last night, it could have been me."
He added people who were rough sleepers sought shelter underneath the arches "to keep warm".
Greater Manchester Police (GMP) said it was unable to verify Mr Palmer's claims.
Det Ch Insp Chris Walker said: "Currently we are investigating all possibilities, nothing is being ruled out.
"We are appealing for any members of the community who have seen anything or who have any information about this incident or who know the man's identity to get in touch with police as soon as possible."
Anyone with information is urged to call police on 101, or Crimestoppers.