Woman calls 999 after kebab assault in Manchester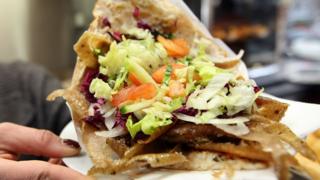 A woman called 999 to report she had been assaulted with a kebab in Manchester.
The victim was struck by the takeaway dish after it was hurled at her by a man in the early hours of Thursday in the city centre.
She dialled 999 to report the kebab attack and that she had then been assaulted.
But she rang back soon afterwards and told officers she did not want to make a complaint.
Greater Manchester Police had originally tweeted the incident, saying: "999s today include report of assault with a kebab at 3am on Whitworth St West."
An hour later police tweeted an 11 year-old had called 999 to complain his mother had taken a game controller off him "for being naughty" after he apparently hit his little sister on the head with it.