M56 chemical spill halts traffic in Greater Manchester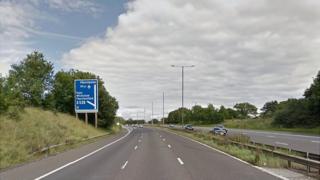 A tanker crashed and shed part of its chemical load on the M56 in Greater Manchester, causing rush-hour delays.
The vehicle, carrying 1,000 litres of bleach, was involved in a crash with a car between junctions five and six, near an exit for Manchester Airport, at 08:00 GMT.
Firefighters were able to contain the chemical. No-one was injured.
Lanes reopened at about 11:00 on the west-bound carriageway, Highways England said.