Bury 'shooting at car' investigated by police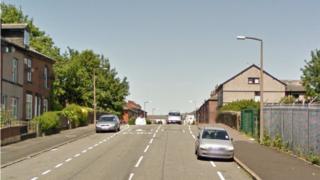 Reports a number of men were seen with guns and fired shots at a car in Bury are being investigated by police.
Officers were called to Killon Street, at about 20:45 GMT on Tuesday, where they found a damaged car.
Witnesses said a "dark old-style vehicle" pulled up before three men got out and "a number of shots were fired" at another vehicle.
This was an "isolated incident" and not linked to other shootings, Greater Manchester Police said.
"This shooting will understandably cause concern to local residents given the recent firearms incidents in other parts of Greater Manchester, however I would like to stress that we believe this to be an isolated incident," Det Insp Paul Walker said.
"We are treating this very seriously and we are working to identify those responsible for what we believe to be a targeted attack."
One of the suspects was wearing a motorcycle helmet with green on it and was carrying a rucksack.
Two others were wearing black balaclavas and one had a green jacket on. All three were about 5ft 6ins tall.
It is possible a fourth person was driving the car, police added.
Anybody with information should contact police or Crimestoppers.