Greater Manchester Police standards unit faces inquiry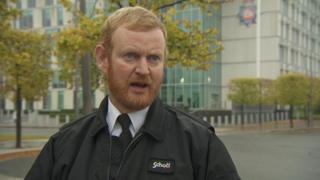 Greater Manchester Police's professional standards unit is to be investigated after allegations of criminal wrongdoing against some of its members, the BBC has learned.
Chief Constable Ian Hopkins has ordered a review of the unit - which examines misconduct complaints against the force - by the Metropolitan Police.
He said no-one had been charged with any criminal offence.
But he confirmed "a number" of officers are facing misconduct proceedings.
Complaints have been made against six officers, the BBC understands.
Kent Police was called in following claims made by former GMP Ch Insp John Buttress, who was cleared of mortgage fraud by a jury but was dismissed by an independent panel in September.
Mr Hopkins said the Kent force did not believe its findings met the threshold for criminal conduct, but "a number of officers have been served notice of investigation either for gross misconduct or misconduct."
Mr Buttress had complained about "dirty tricks" during an internal investigation.
While criminal convictions require a case to be proven beyond reasonable doubt, employers only have to prove their case "on the balance of probabilities".
GMP said Mr Buttress was fired for conduct which fell below their accepted standards in relation to honesty and integrity in his financial affairs.
Analysis
Neil Morrow, Producer, BBC File on 4
Each police force in the UK has its own Professional Standards Branch (PSB). Their task is to root out corruption and bad behaviour among serving officers.
When complaints are made by serving officers about a serving colleague, these complaints are first investigated internally. Only if the PSB identifies potential misconduct or criminality, are they then referred to the Independent Police Complaints Commission.
Critics of the current rules say it effectively means that the PSB is in a unique and unhealthy position of being able to investigate itself.
The Chief Constable of Greater Manchester Ian Hopkins has asked London's Metropolitan Police to carry out a "peer review" GMP's PSB.
The task of Professional Standards goes to the heart of public trust in policing. For if public trust in internal police investigations is lost, public trust in everyday policing may end up being eroded.
While still a serving officer, Mr Buttress said he was preparing to give evidence as a defence witness in support of a police inspector from Bolton who had been accused and subsequently convicted of mortgage and insurance fraud.
The former inspector, who has not been named, was investigated by the professional standards department and continues to protest his innocence.
Shadow Home Secretary Andy Burnham, who is also MP for Leigh in Greater Manchester, backed an application to the Criminal Cases Review Commission regarding the Bolton officer.
"The feeling I have is that it doesn't add up … something doesn't make sense, " said Mr Burnham. "I think he's owed answers that he's not yet had."
You can hear the full story from 20:00 GMT on BBC Radio 4