Mother and daughter stole £23k from elderly Alzheimer's patient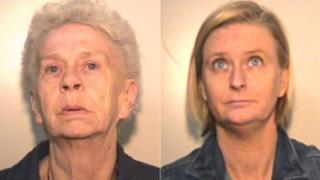 A mother and daughter who stole more than £23,000 from an elderly woman with Alzheimer's disease to buy a sports car and Jimmy Choo shoes have been jailed.
Joyce Quinn, 74, and 42-year-old Sarah, both of Whitmore Road in Fallowfield, Manchester, pleaded guilty at the city's crown court to theft.
Police said they stole the cash between June 2012 and April 2014 while acting as "informal carers" to the woman, 83.
Sarah Quinn was handed 18 months in prison, while her mother got 12 months.
Greater Manchester Police said the pair had managed the woman's finances and cared for her since her brother's death.
'Designer jewellery'
PC Annabel Lewis said the theft of the money from the woman's bank account to pay for luxury items was an act of "pure greed" that would "sicken many people".
She said the pair had claimed to care for the victim but "suspicions were raised when her financial advisor visited her and could see that her living conditions were poor and her needs were not being met".
"When police were alerted," PC Lewis added, "we searched the Quinns' house, which in comparison was pristinely clean, and discovered they had spent money on designer jewellery, shoes and a sports car."
Joyce Quinn was also sentenced to six months for fraudulently obtaining a cheque for £6,000.
That sentence will run concurrently.