Salford floods: Church offers to underwrite unsecured loans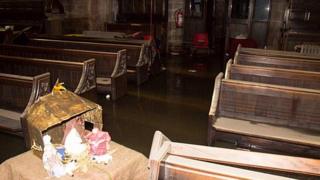 The Church of England has offered to underwrite £3,000 of unsecured loans to people affected by floods in Salford.
The Diocese of Manchester said Boxing Day flooding caused "great difficulties for people" in the area, not least because about 90% were uninsured.
St Philip's Church opened as a night shelter on 26 December as did St James Church and St Clements Church flooded.
The Very Rev Lisa Battye, Dean of Salford, said she received an urgent help request from Salford Credit Union.
She said those affected had their homes devastated by flood water and lost carpets, furniture and cooking equipment.
In Lower Broughton, St Clements Church saw 18 inches of water enter the building and church hall.
'Amazing response'
Dean Battye said the deanery was asked if it could underwrite unsecured loans to people whose homes were damaged to £3,000.
She told the BBC: "The funds that the deanery collect from its churches are there for the members' use for a rainy day and we had a pretty rainy day with the floods and it makes a suitable use for the money.
"We know of one of our church members who's been flooded out but most of the people are not church members. We asked Salford Credit Union who will manage the loans and they are particularly keen it is available to people who are uninsured."
She said a woman with a childminding business had all her equipment affected by silt after the flood.
Salford Deanery Synod members held an urgent ballot over the new year and received overwhelming support for the proposal.
Canon David Wyatt said: "When disaster strikes, it always generates amazing response of community activity and generosity." He said their van was out and picking up furniture and taking it where it is needed.