'No complaints' from pupils over make-up ban says Manchester school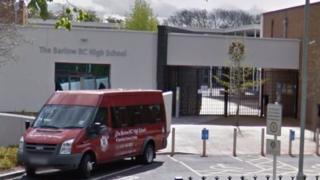 A school in Manchester at the centre of a row over banning children wearing make-up said pupils have not raised the issue.
A pupil at Barlow RC High School told the Manchester Evening News she had been threatened with expulsion for wearing beauty products.
Students were also told wearing coloured bras under white shirts was "distracting" for boys, the paper said.
The school said no concerns had been shared on the student forum.
Claire McCarron, headteacher at the Didsbury school, said: "All pupils and parents are made fully aware of the rules we live by here in school when they first join us, and sign up to a commitment to abide by them."
'Well-rounded individuals'
She added: "We encourage all pupils to be actively involved in all aspects of school life and encourage them to raise concerns about any issues through our Pupil Voice system, but this issue has never been raised in this forum."
Part of the school's job was to make sure pupils left as well-rounded individuals who understood rules, she said.
A spokeswoman for the school would not comment on whether pupils had been ordered to remove make-up during school hours.
Students across the country have shared their views on Twitter in recent years regarding make-up and dress code issues within schools using #IAmMoreThanaDistraction.