Burger King plans to sell alcohol from 8am at Manchester Piccadilly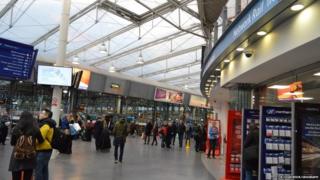 Fast food firm Burger King has applied for permission to sell alcohol from 8am at its Manchester Piccadilly outlet.
The burger company plans to serve beer at the station from the early morning until midnight, seven days a week.
It has also applied for an "all-night" licence on New Year's Eve.
The company's Bury St Edmunds outlet was the first in the UK to be granted an alcohol licence and an application has also been made in Blackpool.
Burger King's Piccadilly branch does not have a seating area, so customers will have to take their drinks on to the station concourse.
If successful, an "all-night" licence would allow alcohol to be sold from 8am on New Year's Eve until midnight on New Year's Day - a total of 40 hours.
Opening times at the Piccadilly outlet could also be extended from 11am-11pm to 7am-2am every day.
Alcohol served
Drinking is permitted inside Piccadilly station - which has the Mayfield pub and shops selling alcohol on site - but it is closely monitored by Network Rail and British Transport Police.
Network Rail declined to comment on the burger firm's plans.
Manchester City Council confirmed the application will go before its licensing sub-committee on 16 February, with a 19 January deadline for expressions of support or objection.
In a statement, the burger chain said: "Alcohol has long been served in several Burger King restaurants that are located in airports and other transit locations in the UK.
"Any restaurants that apply to serve alcohol are required to adhere to all local legislation."