Lindow Moss: Environmentalists back ancient bog homes plan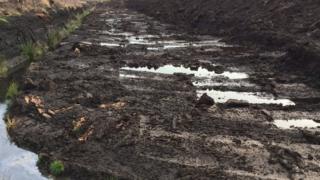 Environmental groups are backing plans for new homes on the ancient Cheshire resting place of Lindow Man.
Croghan Peat has promised to restore Lindow Moss after years of peat extraction, provided it is granted planning permission for 14 homes to be built on part of the site.
The firm says continued extraction of peat would have "an adverse impact on the local landscape".
But critics said the plans for the site are "financially unviable".
Cheshire Wildlife Trust said they would result in "a positive outcome for nature".
Cheshire East Council said the application will "follow the council's due process and will be treated no differently to any other application for a housing scheme in the Borough".
'Nationally important'
It was the actions of a peat cutter 30 years ago that led to the discovery of Lindow Man at the bog near Wilmslow, one of the best preserved Iron Age bog bodies to be found in the UK.
The body had been preserved in the peat for 2,000 years.
Croghan Peat said its plans for a "small residential development" will "secure the future of this nationally important resource for the enjoyment of future generations".
Local residents claim the scale of local peat extraction has ruined the landscape and lowered the water table.
Cheshire Wildlife Trust has told council planners the application "will provide a mechanism to stop the ongoing biodiversity loss at the internationally important lowland raised bog".
Environmental campaigners Transition Wilmslow said the cessation of peat extraction "constitutes the very special circumstances needed to justify development in the green belt".
Natural England said it has no objection to the proposals.
'Adverse impact'
But town councils are split on the plans, whilst Tony Evans from residents group the Saltersley Common Preservation Society said the application is "neither financially nor economically viable".
Croghan Peat has permission to extract peat from the site for the next 26 years.
The firm's application warns: "Should this application be refused, the proposed wetland restoration will not proceed at this early stage.
"Continued peat excavation operations up to 2042 would continue to have an adverse impact on the local landscape, the local residents and the local highway network."