UK-Med: Manchester charity gets £8m grant for global disaster responses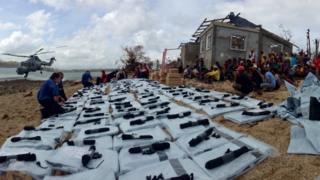 A Manchester-based charity has been handed an £8m government grant to take charge of sending UK volunteers to the world's humanitarian disasters.
UK-Med, which began by sending medical volunteers to Sarajevo hospitals in the Balkans war in 1995, has received funding for the next five years.
The charity, based at the University of Manchester, has built up a database of medical volunteers since 2011.
UK-Med's most recent deployment was to the Ebola outbreak in West Africa.
A Department for International Development spokesman said: "When a humanitarian disaster happens, and the affected country makes a request, UK-Med are now formally our go-to people for deploying medical volunteers."
The charity had already been working in an informal partnership with the government.
UK-Med is staffed by academics from the University of Manchester's Humanitarian and Conflict Response Institute (HCRI) which studies humanitarian aid and conflict response, global health, international disaster management and peace building.
'Duty to help'
Tony Redmond, the centre's deputy director as well as the head of UK-Med, said: "In this country we are in the privileged position of being able to respond to emergencies and I believe it is our duty to help people in distress if asked and we have the skills to do so."
International Development Minister Desmond Swayne added: "The skills of these British volunteers have helped to save many lives and this new support will ensure they continue to make a difference for people in need."
UK-Med grew out of the South Manchester Accident Rescue Team (SMART) which started life as a local medical team, acting in support of the rescue and ambulance services in Manchester.
Since then it has responded to humanitarian crises caused by disasters and conflicts all over the world.
It has deployed clinicians to the Philippines post Typhoon Haiyan, to the Gaza conflict and most recently to Nepal in response to last April's devastating earthquake.
During the Ebola crisis, it send teams of clinicians to Sierra Leone between November 2014 and May 2015.
It also helps train local medics in affected countries.