Woman hit by stolen car in Manchester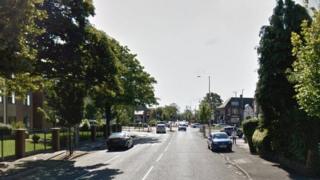 A woman has been hit by a stolen car in Manchester, leaving her in hospital with serious injuries.
The 53-year-old was struck by a Vauxhall Corsa in Nuthurst Road, New Moston, as the car attempted to overtake a Chrysler Cruiser, at about 20:55 GMT on Tuesday.
The stolen car crashed into the side of the vehicle, lost control and hit the woman, who was on the pavement.
The car then went on to hit two parked cars and a garden fence, police said.
The woman suffered a broken pelvis.
Police are appealing for information after two people were seen getting out of the car and running away.
PC Andy Burgess said the vehicle had been stolen from Middleton shopping centre on 18 December.