Two pigs heads left outside Blackburn Muslim school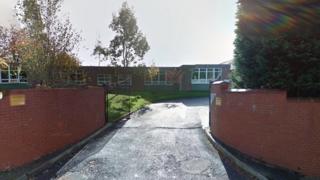 Two pigs heads have been left outside a Muslim school in Lancashire in what has been described as a "show of hate".
One of the heads was left by the gates of Markazul Uloom boarding school in Blackburn, while the other was thrown over the walls some time between Friday night and Saturday morning.
Lancashire Police said the incident is being treated as a "hate crime".
Abdul Hamid Qureshi, chairman of the Lancashire Council of Mosques, said the act was "a provocation" and "a crime".
Ch Insp Sheena Tattum said police were searching through CCTV and the matter was being treated "extremely seriously".
Eating pork is forbidden in Islam.
Mr Qureshi said: "These are not people who have done any harm to anybody."
"It is a show of hate, in a sense."