Oldham Asians dismiss UKIP's claim of election fraud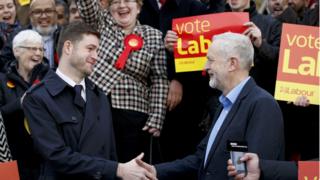 Members of the Asian community have dismissed claims by UKIP leader Nigel Farage of possible voter fraud at the Oldham West and Royton by-election.
UKIP candidate John Bickley came second as Labour's Jim McMahon won with a 62% share of the vote.
Mr Farage claimed people with "bundles of postal votes" had turned up at polling stations.
However, his party backtracked later by saying it would consider the evidence before lodging an official complaint.
A number of residents in the town - which, according to the 2011 census, has a relatively large population of people of Pakistani (10.1%) and Bangladeshi (7.3%) origin - told the BBC they were not aware of any pressure on voters.
Ahmed Juned, who works for a local newspaper printed in Bengali and English, said he knew of examples of voter fraud ahead of May's general election, which were resolved by local authorities, but was not aware of any instances at the by-election.
He said: "So many people even don't know how to fill in the form."
In a report earlier this year, the Electoral Commission named Oldham West and Royton as one of the constituencies alleged to have a "greater risk" of voter fraud.
It added that it was exacerbated by "low levels of literacy or a lack of English skills".
Mr Juned said: "In the Asian community, people live together and know each other very closely. They trust people to help them fill in the form and where they need to send it."
"Sometimes I feel they get manipulated," he adds. "If the council helps people with how to fill in the form - that may be a solution."
'Special relationships'
Pharmacy manager Nasser Khan said: "I think 30%-40% would vote for somebody who they know because that's what you trust.
"A lot of people are probably uneducated, they are not aware of the media, they don't know what's going on in the communities and in the parties, so obviously they would vote for someone they know."
But he believes Mr McMahon won the by-election "because he is a genuinely nice guy".
"He's born and bred in Oldham. A lot of people know him. He's done quite a lot for the community and that's why people have supported him. I'm glad he won."
Shopkeeper Jilad Miah said that, overall, there was less campaigning for the by-election when compared to May's poll, which was won by the late Labour MP Michael Meacher.
He said: "Nobody has told me that they've been forced or influenced in the way they want to vote.
"People in our community know each other very well and maybe someone goes around and tries to influence somebody because they have that special relationship.
"But that doesn't necessarily mean that they're forcing that person to vote in the way they want them to vote, maybe it's just influence."
Oldham Council said there had been a "high level of daily scrutiny" of the by-election, the first to be run under the new system of individual electoral registration where people themselves sign up to vote rather than being registered as a member of a household.
Asian women 'misconception'
There has also been a perception that women of South Asian origin are more likely to be manipulated at elections.
However, a number of female voters, who did not want to be identified, told the BBC they had not heard of any undue influence ahead of the election.
One woman complained that although her family applied for a postal ballot for her father, since he was in hospital, they never received it.
Mr Miah said: "People have a very bad misconception of Asian women and think they're manipulated or influenced by their husbands or leaders but that's not the case. Asian women are more independent than people think."