Bosley mill blast: Jason Shingler inquest opens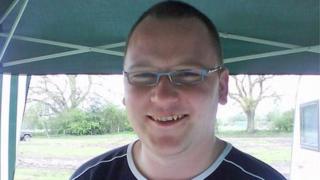 The inquest has opened into the death of a mill worker whose remains have not been found after he was killed in a Cheshire mill explosion.
Jason Shingler, 38, was among four people killed at the Wood Treatment Ltd plant in Bosley on 17 July.
An order was obtained under the Coroners and Justice Act for the inquest to proceed at Macclesfield Town Hall in the absence of his remains.
The hearing was opened and adjourned on Thursday to a later date.
Updates on this story and more from Cheshire
The four-storey building was completely destroyed in the blast, which was described by rescue teams as the "worst incident of its kind" in a decade.
Deirdre Healey, a lawyer representing the victims' families, said: "We will now be seeking to work with the authorities as we also begin our own investigations into what happened and seek to provide the necessary support for the victims."
Her firm Irwin Mitchell added that a total of 35 employees were believed to be on site at the time of the explosion.
In August, an inquest into the death of Derek Moore, 62, from Stoke-on-Trent, was told of the "scene of devastation" that greeted rescue workers.
Inquests held in October revealed the other two victims William Barks, 51, and Dorothy Bailey, 62, died from the effects of explosion and fire at the site.
The plant was used for processing wood into a fine powder used to make laminate flooring.