Manchester paedophile David Walker jailed for historical abuse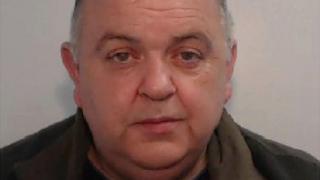 A "predatory paedophile" who sexually abused children aged between three and 12 in crimes dating back to the 1970s has been jailed.
David Walker began his offending when he was a teenager and attacked his young victims in their beds while they slept, Manchester Crown Court heard.
The 54-year-old was found guilty of six serious sexual assaults, including rape, and one of indecent assault.
Walker, of Foxfield Road, Manchester, was jailed for 15 years.
The court heard how Walker's first victim was abused in the late 1970s at the age of five or six.
'Traumatising memories'
He said Walker came into his bedroom while he was sleeping, restrained him and then raped him, with the rapes continuing over the course of a few weeks.
At around the same time, Walker abused another boy, aged between three and five, also by entering his bedroom and raping him.
The victim said the abuse had "torn his life apart", making him unable to trust people and driving him to "a life of drink, drugs and gangs after he left school".
Walker went on to abuse a 12-year-old girl in 1991 and a five-year-old girl in 1993, the court was told.
After the sentencing, Det Con Susan Hazell, of Greater Manchester Police, said: "David Walker has left these poor victims with traumatising memories which will unfortunately last a lifetime.
"He is a predatory paedophile, attacking when the opportunity arose, when these poor children were unfortunate enough to have been in the same house as him as they slept.
"This conviction only came about after [the victims] were brave enough to come forward to police and share their ordeals."
Walker was cleared of four counts of indecent assault.