Giant advent calendar unveiled in Manchester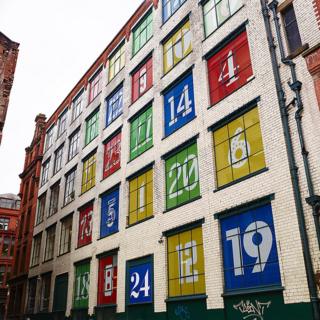 A giant advent calendar, which will see large art works revealed from behind its colourful doors, has been unveiled in Manchester.
The 24 Days of Lever Street calendar has been stuck on 23 windows and a door of a building in the city's Northern Quarter by design agency True North.
Illustrator Stanley Chow has provided the first work, festively titled A Partridge in a Pear Tree.
The calendar has been created in aid of children's charity Wood Street Mission.
True North's creative director Ady Bibby said the idea was to "demonstrate the Northern Quarter's creative talent whilst bringing a little festive cheer to the people who live and work here".
"I'm a big kid when it comes to Christmas and it doesn't get bigger than this," he added.
A host of other Northern Quarter artists and designers will provide the other specially-commissioned works, including Young, Deanna Halsall, Hyper Island, Chilli Marketing and True North itself.