Teacher Jamshed Javeed's terror sentence appeal rejected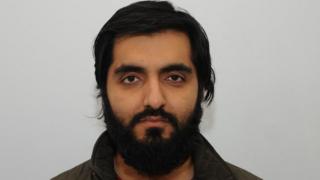 A biology teacher who was jailed for six years after planning to fight for so-called Islamic State has lost an appeal against his sentence.
Jamshed Javeed, 31, of Manchester, had bought plane tickets for Syria, despite pleas from his family not to go.
He was jailed last year after admitting engaging in preparation for terrorism.
Javeed argued that the sentencing judge had been wrong to find he was an "extremist Jihadi willing to die", but this was rejected at the Appeal Court.
Mrs Justice McGowan said the sentencing judge at Woolwich Crown Court had been entitled to conclude Javeed had intended to fight for so-called Islamic State.
Combat-style trousers
The court heard Javeed had been preparing to leave his home in Levenshulme after helping his younger brother Mohammed make the trip to Syria in late 2013.
Javeed, who taught at Sharples School in Bolton, was in contact with people already in Syria and was given a shopping list of items he would need.
His attempt was foiled when his family hid his passport and police arrested him hours before he was set to leave the UK.
Police found £1,490 in cash, thermal gloves and combat-style trousers in a rucksack during a search of Javeed's home.
At the Court of Appeal, his lawyers said he now wanted to put forward evidence that he did not support the terrorists' tactics or aims in their bid to form an Islamist state.
But Mrs Justice McGowan said Javeed could have given evidence at Woolwich Crown Court last October if that was what he believed.
"This was a successful effort to assist others to go to Syria and fight with Isis and a later concerted effort to go and join them in that fight," she concluded.