Middleton shooting: Man, 28, in hospital with chest injury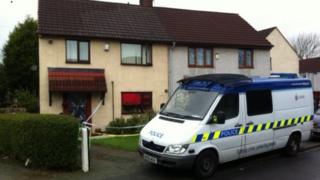 A man is critically ill in hospital after being shot in the chest in his Greater Manchester home, police confirmed.
Armed officers and paramedics were called to Ullswater Drive, Middleton, following reports of a shooting at about 02:00 GMT.
The 28-year-old was found with a bullet wound and taken to hospital for surgery.
A police investigation has begun. No arrests have been made.
'Isolated incident'
Det Insp Andy Naismith from Greater Manchester Police's Major Incident Team said: "This man was shot in his home in Middleton and remains critically ill in hospital.
"We believe this was an isolated incident but, quite understandably, people in the area will be worried when they hear news of this attack.
"We are doing all we can to identify those responsible."
A nearby resident said: "I'm shocked. It's a bit close to home. You hear of these things happening but it's quite frightening.
"I came out of the house, walking the dog, and there was police everywhere. It was obviously something very serious.
"[The neighbourhood] is normally quiet. It's one of the few areas round here that is on the up."
Another neighbour said: "It's unusual for it to happen round here. This is a quiet street. We've lived here seven years and nothing like this [has happened] at all."
Anyone with information is asked to contact police or Crimestoppers.