Tracy Shelvey said she 'should not have reported rape'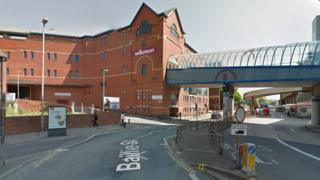 A woman who fell to her death after learning that a man had been cleared of raping her and other women told police: "I should not have reported rape".
Tracy Shelvey, 41, died after falling from the Wheatsheaf Shopping Centre in Rochdale, Greater Manchester, three days after she was told of the verdict.
An inquest in Oldham heard she reported the alleged rape in 2011 but police decided to take no further action.
After others reported rape by the same man, she gave evidence in two trials.
Following a retrial he was cleared of all charges.
'Police sold me out'
Ms Shelvey, who had a child, was visited by officers from Greater Manchester Police (GMP) on 31 January 2014 to inform her of the outcome.
Hours later she phoned police from a telephone box, telling the call handler: "They should have just left me" and that she was "suffering".
She said: "The police sold me out. I should not have reported rape. I should not have reported it, that's that, and in future I'd tell people not to report it. They are not being believed."
Her mother, Irene Shelvey, said her daughter had been confident the defendant would be found guilty, but afterwards thought "people didn't believe her".
Angry response
Det Con Jason Ruff, who had been working on the case with a colleague, told the hearing that he "wasn't aware" of a strategy of informing her in the event of an acquittal.
The inquest heard Ms Shelvey was to broach the subject first. Det Con Ruff said she became "angry and irate" on being told the case's outcome.
He said that a request for a "vulnerable adult" referral was made, adding: "It had been along the lines of, 'Make sure you put things in place for Tracy, let division know, let area cover know and make sure there's a referral'."
He also said that plans would have been put in place for the acquitted man's safety.
Ms Shelvey told officers that she "wasn't going to do anything stupid".
The inquest continues.