Manchester Airport bomb hoax: Two arrested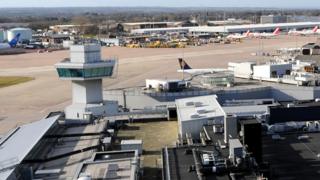 Two men have been arrested at Manchester Airport on suspicion of making a bomb hoax, police have said.
An Easyjet plane bound for Morocco was evacuated at about 15:30 GMT after a passenger claimed to have a bomb in his bag, a police spokesman said.
Security checks were carried out and no devices were found, but two men, aged 45 and 46, have been arrested.
An Easyjet spokeswoman said the airline took "any security threat" seriously and safety was a "priority".
"Easyjet can confirm that police were requested to board flight EZY1893 from Manchester to Marrakech at the request of the captain," she said, adding that the airline "would like to thank passengers for their understanding" after the evacuation.
A Manchester Airport spokesperson said further security checks have been completed and the plane would be departing later on Thursday.