Van thief who dragged victim along M602 has sentence increased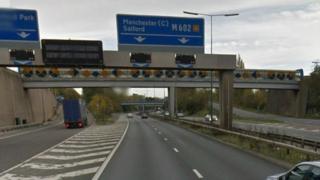 A man who hijacked a van and drove it along a motorway while its "Good Samaritan" driver clung to the bonnet has had his sentence almost doubled.
Michael Keary, 43 and from Stockport, stole the van after workmen stopped to help him when his own lorry overturned on the M602 near Salford on 1 March.
Solicitor General Robert Buckland persuaded Court of Appeal judges that the original sentence of three years and four months was "unduly lenient".
Keary has now been given six years.
The court in London heard Keary's truck had overturned on the motorway when he took a bend too quickly.
Along with other workmen, Christopher Ashton, 28, went to his aid.
When Mr Ashton tried to stop him from taking his van, Keary swerved left and right in an attempt to throw him off the bonnet, accelerating to about 20mph.
'Debilitating headaches'
Mr Ashton fell and struck his head, suffering a fractured skull and bruising of the brain, and was in a coma for three weeks.
Lord Justice Treacy said the consequences for the victim were "significant" and ongoing, with implications for his future employment and prospects.
His injuries had affected his sense of balance, vision and hearing, as well as him suffering from "debilitating headaches", he added.
The judge said the victim's injuries arose out of what the court regarded as "deliberate dangerous driving".
Keary, who admitted causing grievous bodily harm with intent and aggravated vehicle taking, handed himself in at a police station.
He accepted he had driven Mr Ashton's van in order to leave the scene of the accident. At the time of the offence, he was on bail for the production of cannabis.
After the hearing, Mr Buckland said Keary had "attacked a man who had gone to his aid".
"I referred this case to the Court of Appeal as unduly lenient because I felt that three years and four months simply failed to reflect the gravity of the attack on this Good Samaritan."