Ian Stewart to step down as Salford mayor in 2016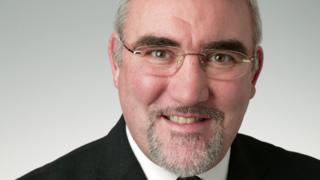 Salford's first elected mayor, Ian Stewart, has confirmed he will step down next year.
In a letter to local Labour members, the former MP for Eccles said he would not seek a second term in next May's mayoral election.
Mr Stewart became mayor in 2012 in an election featuring a 26.1% turnout.
He took over in Salford at a time of unprecedented budget cuts. Earlier this year, the council said it would save £56m over the next two financial years.
Austerity critic
Mr Stewart said it would be "business as usual" until May.
"Being City Mayor continues to be challenging and demanding and I will continue to give my all to this wonderful city and its people until the election in May next year," he said.
"It remains an absolute honour to serve Salford and I am immensely proud of this city."
He said he was proud that his city was "experiencing phenomenal growth rates, bringing new homes, new businesses and new jobs" despite cuts to council grants.
Mr Stewart has been a fierce critic of the government's austerity plans and, in February, said some vulnerable people would "no longer get the services they need" due to the cuts.
Among the mayoral candidates in 2012 was the convicted criminal Paul Massey - once branded "Mr Big" - who was shot dead outside his Salford home in July.
Although Mr Stewart refused to share a platform with Massey during the election campaign, he described the murder as "horrendous".
"I have to say that the council and the police want to see guns and gun crime removed from the city of Salford," he added.
---
Analysis: Kevin Fitzpatrick, BBC Radio Manchester's political reporter
Ian Stewart has always painted himself as the reluctant hero, stepping into the breach because colleagues asked him to.
He was open about the fact that Labour had opposed the idea of an elected mayor but, after a referendum meant the city would become the first place in Greater Manchester to have one, he said the party had a duty to make it work.
A left-wing firebrand who spent his formative years living in a Glasgow tenement building, his working class roots shaped his political values.
Budget cuts resulted in difficult decisions having to be made.
Mr Stewart believes he has made them while investing to boost the local economy.
There have also been controversies, such as his move to financially support the city's rugby league club without telling his fellow councillors.
He has not yet left office, but already his would-be successors are jockeying for position.
---