BMW crushed by falling debris caused by Storm Barney in Leigh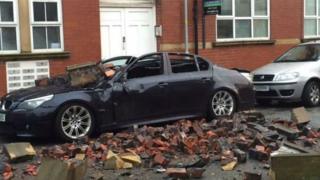 An apartment block in Greater Manchester had to be evacuated during storms on Tuesday evening after the gable end of the roof collapsed.
A BMW parked outside the property in Wilkinson Street, Leigh, was crushed by a hail of bricks and chunks of masonry in winds of up to 50 to 60 mph.
Half of the flats in the two-storey 14 apartment block had to be evacuated at about 19:45 GMT during Storm Barney.
Part of the street is currently cordoned off.
Some of the bricks are still hanging off the building which used to be a technical college.
Dean Bates, a resident who was able to stay in the building, said: "I had just walked through the doors and I heard this almighty crash and I virtually jumped out of my skin."
Stuart Schofield, who lives opposite the block, said he was watching the England v France football match on the television, "when I just heard the loudest bang of my life."
He added: "Luckily no one was in that car at the time... I usually park my car in that spot, I had parked two spaces behind it."
Greater Manchester Fire and Rescue Service (GMFRS) said crews were called out to several incidents thought to be a result of the bad weather.